For a while now I've been talking about the three thirds theory of DJing. I think it was at the DJ Summit at SwingCity that I first started talking to people about it. I guess it was operating at some kind of subconscious level until the moment that I started trying to explain it, and since that time I have thought about it off and on I guess. I still don't consciously use it as a method for every set I put together, but it does come into my thinking every now and then.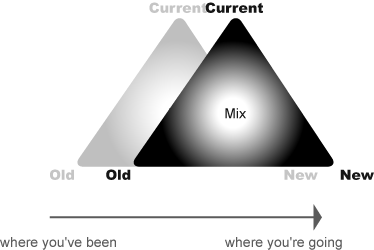 Well, it's now, and I need to make sure my set on Friday kicks butt, so I am going to put down my thoughts here. The Three Thirds Theory says that whenever you're DJing for a regular crowd you want to have three elements in rougly equal proportions: Old, Current, and New. Let me break those down a bit so that there's no misunderstandings. Old stuff is stuff that you know your current audience — the dancers in front of you at that moment — are familiar with. The audience varies all the time, so you need to be aware of what they are familiar with. Which songs never fail to bring a smile to people's face? What can you put in on and know, pretty much without fail, will haul their asses off that comfy chair and get them up?
For the sake of it, I'm going to list a few tracks of mine that I would think would be in this first category on Friday night down here: Shout Sister Shout (Lucky Millinder), Royal Garden Blues (Bill Henderson), Rockhouse (Ray Charles), Corner Pocket (Ellington/Basie), Jeep Jockey Jump (Glenn Miller). Any list of favourite is completely independent of feel, tempo, style, or whatever, so this isn't a guide to choosing which track is right for the mood of the crowd. Just a further means of categorising things.
The second element is the current stuff. What's popular right now? What are people just getting used to hearing? What are they waiting to hear? Songs in this category right now with your average crowd at the Fun Pit, for me, include: 'Bill Bailey' (Ella Fitzgerald), 'Apollo Jump' (Lucky Millinder), 'Lavendar Coffin' (Lionel Hampton), 'A Pretty Girl, A Cadillac And Some Money' (Buddy Johnson), 'Barn 12' (Harry James) and 'Drop Me Off in Harlem' (Victriola).
This second category can be hard to pick, because it's hard to keep on top of whether things are just now becoming popular or whether they're just being played a lot. You can also forget that things have been around for a while, or miss stuff that people really hang out for. I just focus on my own stuff for the most part, and this second category would be stuff I have in "high rotation" at the present time.
The third element is the new stuff. Now, I'm specifically not talking about new recordings here, although from time to time I do find new recordings or new releases that will be added to the new category. What new refers to is the "bleeding edge" stuff — what the audience is just hearing for the first or second time. I have long believed that it is important to introduce stuff your audience hasn't heard much of if things are going to keep fresh. One of the most common problems with DJs I hear is that they play only stuff that they have heard others play and succeed with. They end up sounding like everyone else without really carving out their own niche of interest. This is a sign of a DJ not having a big enough collection, of course — but it's also a sign that they don't listen to their own material. Just about anyone has enough material to put together a good set, if they only know their own stuff well enough.
I had the rather terrifying experience of being asked to play some tracks when I didn't have my trusty laptop handy the other day. It was during the break while the Cairo Club was completely cutting it up at Mayfields, and there was a strong feeling that the feeling was going to be lost during an extended band break. I jogged to my car and picked out the one CD I had that could do the job — a 1 hr collection I bought recently called Harlem Stomp. It's just one of those cheap compilations you see everywhere (I can't even find it listed on AMG) but it has some of my favourites and I thought it might have some versions of things I didn't have. Anyway, all I did was stand in the DJ booth and choose the song order. The toughest part was just choosing the right feel to get people started and then build something up to where I could play the best stuff on the CD a couple of fast classics: 'Jumpin' at the Woodside' and 'Bugle Call Rag'. Now, if two songs ever said "jam please", those are them. Anyway, it worked, and I had strangers coming up to the booth telling me I was a DJ god and stuff, but the catch was that I didn't even have my gear there — just chose a song order from the one swing CD I happened to have in my car.
I know full well that the atmosphere in there is not something I had created — it was a product of the band being so good and a bunch of inspired dancers waiting around for something to bust out to, however I do believe there is some skill in knowing your music well enough to manipulate it. I do know that putting the CD on from start to finish would not have worked. The management already had a CD on with similar stuff playing before I started, and nobody was dancing.
Anyway, in a round about way, that little anectote is just an example of what I was trying to get at with the New category. Too many people seem to look for something radically different when they look for their new material. They often go for something that just doesn't swing — either it's tinkly complicated 7 minute bop stuff with undancable bass solos (ugh) or some monotonous R&B variant. Now, I am not saying that R&B isn't fun, and I am definitely not a purist. But you have to look hard at whether something really makes a good dance song. Is it short enough? Does it have enough going on to make it interesting? Does it have a swinging beat, or is it something different (shuffle rhythms are a personal dislike of mine and a sin committed by way too many DJs for my liking).
The truth is that good new lindy hop stuff is probably going to sound quite a bit like good old stuff, but different. It's probably going to swing if it's any good. It's probably not going to be produced by a ska band. It's probably not going to have a latin beat, or be a hip hop tune. I don't rule these areas out by any stretch of the imagination, either as novelty songs or as a whole new area of dance exploration. Hell, go for it — I dance to 'Plenty' every time it's played and couldn't think of anything I'd like more than busting out to some hip hop stuff. But do I go looking for those tunes to expand my collection? Nah. There's way too much good swingin' lindy hop stuff yet to be discovered.
So what will be on my new list this Friday? I managed to snaffle a bunch of stuff on the locally produced Flashback label in the $3 bin and I got a stack of Lunceford, Barnett, and Hamp that I hadn't seen yet. I also remembered to use most of my monthly quota on eMusic.com to snaffle a few albums and pick the eyes out of some others. I got some brilliant Roy Milton stuff, including a version of 'Taint Me that I am officially In Love with, and the best version of Blue Skies that I know. I grabbed everything I could get from Nellie Lutcher in their collection (an album called Hurry On Down) an album by Big Joe Turner (All the Classic Hits 1938-1952) and a couple of songs from Illinois Jacquet, including the fast and gorgeous 'Bottoms Up' (what an excellent riff that is). The posthumously released Grammy winning 'Genius Loves Company' from Ray Charles and others was worth it mostly for listening value, but I will probably spin 'Fever' (duet with Natalie Cole) if the moment is right.
I snaffled Bill Bailey from the Apple ITMS because I know it's a current favourite (that's category 2, for those of you keeping score at home) and didn't have it. It's hard to get on CD. Mr Borgida also recently turned me onto some new stuff including the most fantastic version of Strictly Instrumental (a vocal, would you believe) by Eddie Jefferson and a few other characteristically Bill offerings that I don't think anyone is playing yet. Bill's tracks are almost bound to be hits, going on past experience, but their introduction must be managed carefully. You can't go overBilling people in one set, because they will not appreciate how good it is!
So we're back to the Three Thirds Theory again. Use this information wisely, dear reader.